What are you looking for?
How to add application identifiers with group separators to a Jasper barcode
Overview
Barcodes according to the EAN-128/GS1-128 standard use a series of "Application Identifiers" to include additional data such as best before dates, batch numbers, quantities, weights and many other attributes needed by the user. (Source: wikipedia.org)
Application identifiers precede the barcode serial number and are enclosed by group separators, such as round brackets ().
Example
The following barcode example is made up of an application identifier 01 separated as a group by round brackets (\u001D) and followed by the serial number 04251699601238: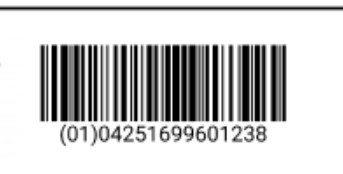 The code behind this barcode looks like this:
<componentElement>
    <reportElement style="Barcode" x="567" y="11" width="132" height="34" uuid="b2179e7e-2c61-4447-acf7-bc189867f074">
        <property name="com.jaspersoft.studio.unit.width" value="px"/>
        <property name="com.jaspersoft.studio.unit.height" value="px"/>
        <property name="com.jaspersoft.studio.unit.x" value="px"/>
        <property name="com.jaspersoft.studio.unit.y" value="px"/>
    </reportElement>
    <jr:EAN128 xmlns:jr="http://jasperreports.sourceforge.net/jasperreports/components" xsi:schemaLocation="http://jasperreports.sourceforge.net/jasperreports/components http://jasperreports.sourceforge.net/xsd/components.xsd" moduleWidth="1.0">
        <jr:codeExpression><![CDATA[("0104251699601238\u001D"]]></jr:codeExpression>
    </jr:EAN128>
</componentElement>

---
View source file on GitHub.com