What are you looking for?
Format example for importing discount schemas
Overview
For importing discount schemas, you require an import format that is configured with the database table Discount Schema Import.
The example below compares the data content of a file from a spreadsheet software (here, e.g., an Excel file prior to its conversion to a CSV or TXT file) with the import format for discount schemas: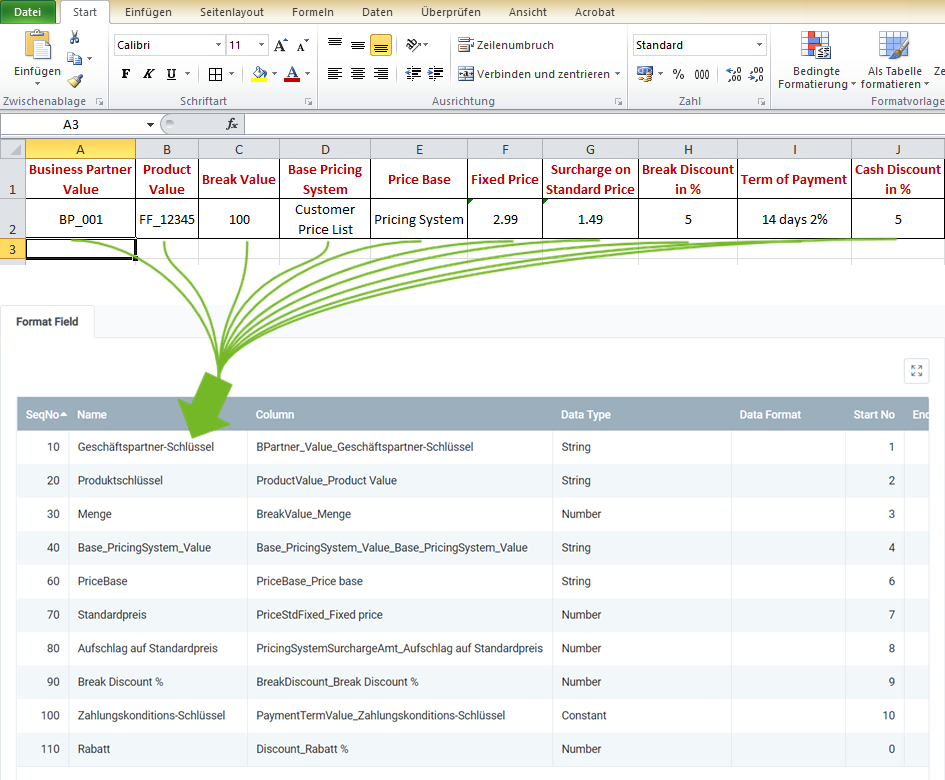 Explanatory Notes to the Example
Column A of the Excel spreadsheet (Business Partner Value) is in the first place, ergo the corresponding format field is given the Start No. 1. Consequently, the format field for Column B receives the Start No. 2 etc.
The order (SeqNo) of the format fields is therefore irrelevant.

Note: metasfresh does not expect any column names in the import file. Simply the position of the column must correspond to the start number.

The Name of the format field may be chosen freely and does not have to coincide with the column name in the import file.
The Column of the format field specifies where metasfresh shall transfer the content of the column from the import file.
The Data Type specifies whether the type of the import data is, e.g., a String or a Number.
Some useful notes
The mandatory fields are essential for a successful data import!
Mandatory Field
Field Name
Example
Note
X
Business Partner Value
BP_001
Business partner number (unique alphanumeric string)
X
Product Value
FF_12345
Search Key of the product (alphanumeric string)
 
Break Value
100
Minimum amount of a product at which a pricing condition applies.
 
Base Pricing System
Customer Price List
Search Key of the pricing system used as basis for price determination.
 
Price Base
• Pricing System
• Fixed
Price base may be either the pricing system or an individually specified fixed price.
 
Fixed Price
2.99
This information is only required if the Price base is set on Fixed.
 
Surcharge on Standard Price
1.49
This information is only required if the Price base is set on Pricing System.
 
Break Discount in %
5
Volume discount in percent
 
Term of Payment
14 days 2%
Payment term for a pricing condition
 
Cash Discount in %
5
Cash discount for payment within the period.
Next Steps
---
View source file on GitHub.com